Coming soon to Arno…
Feb. 1
Kinder JR
Golden Tray Award Recess 1:20
Parent Survey Opens
Feb. 2
Baby Garza shower 8:00
1st Grade JR
Garza Obs. 1:20
NWEA Rewards Assembly
PTA Meeting 6:00
Feb. 3
Safety Committee 9:30
Feb. 6
NWEA Goal Meetings per schedule below
Feb. 7
Teacher Data Day
Feb. 8
PBIS 8:00
NWEA Reward Recess
Feb. 9
Super Cougar Lunch 11:00
NWEA Reward Movie- Top 10
Feb. 13
District MTSS Meeting
Feb. 14
Happy Valentines Day

Ad Council 9:30
Parent/Staff Survey closes
Feb. 15
SIP meeting 8:00
Founders Day Dinner 6:00
Feb. 16
SEL, Reading, Math committee meetings 8:00
PTA Glow Dance at Arno
Feb. 17
NO School- Teacher PD
Feb. 20 and 21
No School- Winter Break
Feb. 23 
Report Card Committee
Feb. 24
Kinder to Ann Arbor Museum
PBIS Rewards
Feb. 27
5th grade departs for camp
Feb. 28
Kalis to U of M Dearborn
March 1
5th grade returns from camp
1st Grade to Henry Ford
New Mission/Vision
The Arno staff has created a new Mission (Why we are here) and Vision (where we want to be in 3 years) to set forth our path towards further academic excellence.  The Mission/Vision will be shared with all stakeholders in various ways so that everyone has a shared understanding of Arno's future.
Arno Mission
Arno Elementary…inspiring students toward academic excellence.
ARNO VISION
Arno Elementary provides a supportive high quality academic experience to inspire all learners to achieve their personal best.

STAFF SURVEY
It is that time again, our annual staff survey will be active from Feb. 1-Feb 14 for staff, students, and parents.  We primarily use our survey results to inform the school improvement plan and take a careful look at things we may need to change.
We will once again only survey students in grades 3-5, and Carrie will help us out with that during their tech time.   Please see your staff link below, I would love to see lots of staff completing it, it should not take you long.
Book Drive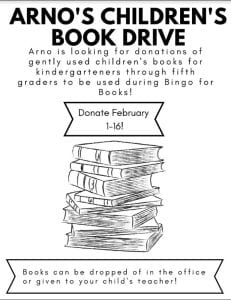 The Olympics were awesome!
Thank you to Nicole Amonette and all of our volunteers-Sarah Kalis, Rachel Warneck, Ciera Zuke, Lindsay Garza, and Emilie Talamonti for organizing another awesome Olympics, back after the pandemic years.  Lots of family fun, ribbons and medals!
From the PTA
 Hello Cougar Families! Below are some upcoming events/reminders/news from your PTA:
February 2 is our next PTA meeting held in the Arno Media Center at 6pm.
February 15 is our Founder's Day Awards Ceremony at Arnaldo's in Riverview.
February 16 is our first ever GLOW DANCE! Flyer attached.
We are having another SPIRIT WEAR sale at the end of February! Keep your eyes out for the dates and link!
March 4 is the annual PTA/PTSA Spring Fever at the AP High School.
We are hosting a Game Night on March 16 and a Super U Assembly for all grades! Details to follow.
We had such awesome feedback regarding mother/son night that we are planning another night out at Rev'd Up Fun in Woodhaven in April! This time for the whole family! Details to follow.
REMINDER:  Daddy Daughter Dance has been scheduled for May 5 at the Grecian Center in Southgate. Details will be announced beginning of April.
Stay tuned for more exciting news/events/reminders from your PTA, and remember to check your emails and our Facebook page for information as well!
Thank you for your support! 
STUDENT GOALS
3-5- please remember to review and revise student goals with them to set their path for the next next trimester.  Ongoing feedback,in addition to a high effect size, is a critical part of maintaining and reaching their goal.  I will be once again sitting down with all partially proficient students, as well as those who were ID as rushing,  and checking in throughout as part of the process.
The dates are below, please send any student with their goals who landed in the partially proficient zone (NWEA predictor), and/or rushed through their test as indicated by NWEA.  Please start the time frame with sending 2 students down- then as one comes back, send the next.  The goal is to have another sit down, other than their teacher, to help them focus more on the importance of making their goals and how they can attain them.  
3rd grade- Feb. 1  9:-10:00
4th Grade- Feb. 1 10:15-11:15
5th Grade- Feb. 1  1:00-2:00
NWEA ASSEMBLY INFO
Thursday, February 2nd, 2023
NWEA Goal Assembly

1 grade level at a time in the gym.

Location: Gym

Time:

3rd Grade: 9:30-10:00 pm

4th Grade: 10:00-10:30pm

5th Grade: 10:30-11:00pm

Reward is given to students who reach their individual growth goal or the 50th percentile rit score for the Winter using the NWEA 2020 Norms. The reward is a certificate, charm, and an extra recess with Mr. Zielinski.

3rd graders who met their individual growth goal OR scored a 194 or higher on the Reading NWEA. (Winter Score of 200 or higher projects a passing MSTEP score)

4th graders who met their individual growth goal OR scored a 203 or higher on the Reading NWEA. (Winter Score of 207 or higher projects a passing MSTEP score)

5th graders who met their individual growth goal OR scored a 209 or higher on the Reading NWEA. (Winter Score of 212 or higher projects a passing MSTEP score)

Top Ten in each grade level. The ten highest scoring students in each grade level will earn the Top Ten reward. The reward is a movie with Mr. Zielinski.

Teachers-Don't forget to bring your certificates (Steve will give them to us to fill out) and charms.

Students should wear their M-STEP necklaces to the assembly.

Founder's Day Celebration
The annual Founder's Day awards celebration takes place on Feb. 15 as our amazing winners get to shine!  Congratulations to all of our award winners this year- you represent the very best of our Arno Cougars!!
2022-23 PTA Founders Day Winners
PTA/PTSA invites families, friends and staff to celebrate the great people and programs in APPS!  Join us for the Founders' Day Awards Dinner on February 15th to honor those who have shown dedication and supported our schools and PTAs since last year's awards.
Tickets for the awards dinner are now available for purchase online only for $25 each, or two for $45, at  https://apptacouncil.memberhub.com/store?category=Founders%27%20Day%202023  The last day to purchase tickets is February 6, 2023.  For more information, contact Sue Clark at apfoundersday@gmail.com
Allen Park PTA/PTSA Council
2022-2023 Founders' Day Dinner & Award Ceremony
Wednesday, February 15
Arnaldo's Banquet Center
18275 Quarry Rd, Riverview, MI 48193
Doors open at 6:00 pm ~ Dinner at 6:30 pm
Arno Elementary
Outstanding educator: Cassie Harrison and Nicole Amonette
Business partner: Culver's of Allen Park – Jeff Holden
Distinguished service: Nicole Adkins
Support personnel: Steve Zielinski
Outstanding program:  Reading therapy Honey and Gunner-Cathy Bray
Bennie Elementary
Outstanding Educator: Mrs. Kristie Lauth
Distinguished Service: Amanda Botello
Support Personnel:  Erica Saville
Business Partner: Jet's Pizza
Outstanding Program: Fun Run
Lindemann Elementary
Outstanding Educator: Stephanie Partin
Distinguished Service: Marlene Cottrell
Support Personnel: Benjamin Hughes
Business Partner: Papa's Pizza
Outstanding Program: Fun Run
Allen Park Middle School
Outstanding Educator: Amy Oaks
Distinguished Service: Hillary Haney
Support Personnel: Emily Portalski
Business Partner: World Stride
Outstanding Program: PBIS
Outstanding Students: Eliana Aquino and Ryan Workman
Allen Park High School
Outstanding Educator: Brittney Hartley
Distinguished Service: Kelley Carey
Support Personnel: Denise Crank
Business Partner: Liberati's
Outstanding Program: Unified Sports
Outstanding Student: Ellie Lauth
Michigan Honorary Life Membership
John Burgus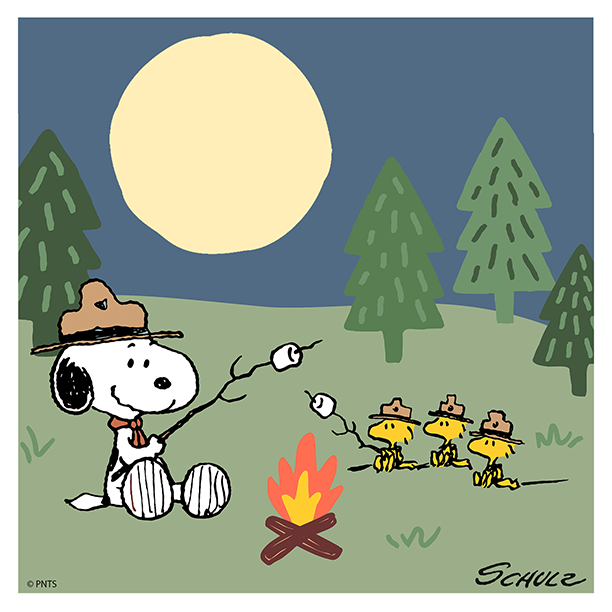 Camp
Our 5th graders get the awesome opportunity to head back to camp for the first time since the pandemic started!  WE are so excited that they will get this experience again and look forward to all of the memories.  Camp will run from Feb. 27- March 1
Committee Updates
PBIS
Matrix

Include digital citizenship?
Tier 2 interventions

Identifying students

(30)

Recommendations to staff

(re-send email to staff)
January Reward

Reward: directed drawing

Organizer: Emilie

Date: Friday, January 27, 2023

Flips: 6

Reminders:

February Reward

Reward: School Wide Bingo (via Zoom with Steve)

Organizer: Emilie

Date: Friday, February 24, 2023

Flips: 5

Reminders: 
March Reward

Reward: March Madness

Organizer: Lisa

Date: Thursday, March 23, 2023

Flips: 4
Smencil Update
Sold $1300

Thank you to Meaghan Bachman for selling on Wednesday afternoon!!

Possibly ask Dena to take over selling
Clip/Flip Chart Alternative

1st grade is going to pilot a "behavior sign-in system". 

Using a teacher planner to document

Will update on how it's going
SIP
Staff worked on Mission/Vision creation

Team discussed physical movements initiative Inpact

Team discussed attendance and ways we can reach families to raise our rate
Reading
-NWEA Slide to Megan
K-2: All students

3-5: Students who reached their personal growth goal or the 50th percentile on the 2020 Norms for both Math and Reading.
-Cut Scores
Use the NWEA 2020 Norms (50th Percentile) per Steve
-Tutoring?
Yes. If possible, target third grade due to the Third Grade Reading Law.
-Review Monthly Edmentum Reading Challenge:
3rd grade won the October Challenge

3rd grade won the November Challenge

3rd Grade Reward: Extra Recess

We added a new reward in November… 500 trophies. 5th grade had more than 500 trophies and received a reward.

5th grade won the December Challenge
-Study Island (continue?)
Yes. We plan on inviting students who scored in the Partially Proficient range on the Winter Reading NWEA.

Warneck-Third Graders
-MSTEP schedule came out
     Clap? Walk of Fame before the first day of ELA for 3rd, 4th, and 5th
     Shirts? Emailed Steve for a new possibility
     Snacks? Yes. If possible, all days of testing. 
MSTEP practice on .gov site:
https://www.michigan.gov/mde/services/student-assessment/m-step/parentstudent-information/online-practice-for-m-step-ela-math-science-and-social-studies
-Kindergarten has begun the Reading Eggs program. Steve used school funds to purchase.
Math
The team discussed NWEA cut scores, math tutoring for bubble kiddos, and MStep prep
Discussed math tutoring
We also discussed Big Idea online platform and the musicals that go with some of the lessons
The NWEA event slideshow was also a topic
SEL
Black History Month
● Continue the pacing calendar
● Continue the newsletter
● Continue the books to read, if you need books, ask Katie, she has moved them.
● Bulletin board near the cafeteria to be updated for BHM
NEW this month!
● New Broadcast Videos
● School wide scavenger hunt
○ Every class will receive a list of the historical figures that will be posted around
the building.
○ The goal is to find all historical figures and continue to talk about them as you find
them throughout the day. This could be waiting in line for music, etc.
Data Day
On Feb. 7 we will have our next Data Day.  We will be discussing the universal assessment round that was just given and any specific students we are very concerned with.  Please be sure that you JR/BAS scores are entered into Educlimber before this day.
The district MTSS meeting will follow on Feb. 13.  I am unsure if the team will want to walk around and observe again.
KINDERGARTEN 2023-2024 INFORMATION
SEL FEBRUARY FOCUS:
Black History Month is an annual celebration of the achievements by African Americans and a time for recognizing their central role in U.S. history. It is also the best opportunity for Arno Elementary students to have a more diverse look at the world and the history of our country, and confront important issues.
How to complete your SEL responsibilities:
Review this month's SEL newsletter on Black History.
Incorporate learning about 1 famous African American in history/important vocabulary word DAILY (see included slides – copy and paste into your own documents) by playing video
Looking for more information/details about historic African Americans? (Perhaps grades 3-5?) Check out the Slides Black History Person-a-Day – attached below!
Review the important vocabulary included in the BHM slides, be thoughtful about classroom discussion, see included resources for help
Choose books from the booklist to use in your daily or weekly instruction – check out the Black History Book Bin in the library!
Friendly Reminders:
It takes COURAGE to talk about things like racism, equity and justice, remind students that it is okay to feel uncomfortable or uncertain
Remember the four SEL themes as we transition back to in person learning: courage, gratitude, forgiveness and compassion
SEL can be integrated within your day. It does not have to be an additional activity.
Booklist and Books are available within the library for check out. Many of the books are also available on Youtube.
Helpful Resources for Thoughtful Teaching of BHM
GREAT RESOURCES FOR BLACK HISTORY MONTH
The following link will take you to a list of classroom and instructional resources relevant for MLK Jr and Black History Month.
MLK Day and Black History Month
ReadWorks– The nonprofit ReadWorks creates free high-impact instructional materials and tools that are designed for immediate use within classrooms. ​Check out their Black History Month resources.
Mr.Donn.Org-Resources for Martin Luther King Jr Day: Grades 3-High School – Includes resource links for background information, bulletin board ideas, worksheets and printables, a selection of lesson plans ranging from 3 grade through 12th, and mini units for 3 and 4th grade.
MLK Jr. Research & Education Institute at Standford – Speeches, sermons, letters, historic documents, and lesson plans focused on High School students.
Morningside Center for Teaching Social Responsibility – Here's a selection of relevant teachable moment lessons appropriate for high school students, and in some cases middle school students.
The Smithsonian: Black History Month – Each year, the Smithsonian honors Black History Month with a calendar full of events. Explore a selection of resources and activities relating to African Americans.
American History Explorer: Our Story – This site from the Smithsonian provides numerous activities and resources that can be searched by grade level or by historical ERA.
National Museum of African American History– The National Museum of African American History and Culture is a place where all Americans can learn about the richness and diversity of the African American experience. It has numerous resources for use by teachers in the classroom.
The Library of Congress: African American History Month – This guide presents the Library's resources, as well as links to external Web sites on African American History.
eThemes: Black History – These sites are about Black History Month. Learn about the contributions of African Americans in different fields. Includes quizzes, an interactive timeline, and other activities. There are links to eThemes Resources on the Negro baseball league, famous African Americans, the Emancipation Proclamation, the slave trade, and the Missouri Compromise. Some of these sites require a subscription.
The History Channel: Black History Month – Explore an interactive timeline of milestones throughout slavery and the civil rights movement. Try the History games too.
Teaching History.org – This comprehensive list of resources comes from the National Clearinghouse on History Education. The resources are organized by grade span.
The MLK Jr National Memorial – It has a great video of what the monument  looks like and a history of the man, memorial, and movement,.
The Biography Channel: Black History – Take a crash course in black history. Check out the interactive timeline and test your knowledge in the games.
Teaching for Change: Building Social Justice in the Classroom-  Covers the larger context of the Civil Rights Movement and the long struggle for human rights and full democracy in the United States.
Teaching Hard History: American Slavery – Not sure how to support students in learning about our painful past and how it affects our present? This new initiative from Teaching Tolerance offers guidance educators and provides some very important guiding principles for teaching about slavery.
Teaching Tolerance– This includes a great article with links to the best MLK resources/lessons from Teaching Tolerance. They emphasize wanting to help classroom teachers teach "beyond the simplified story and help your students learn about this civil rights leader's life and legacy."
The Charles H. Wright Museum of African American History– This website provides an overview of the Museum's education and public programs, information on how to plan a visit, online teaching and learning materials, virtual tours of traveling exhibitions, online catalogs of the library and historical collections, and a calendar of exhibition schedules and educational programs.
Zinn Education Project-  The empowering potential of studying history is often lost in a textbook-driven trivial pursuit of names and dates. We believe that through taking a more engaging and more honest look at the past, we can help equip students — and all of us — with the analytical tools to make sense of and improve the world. Their website offers free, downloadable lessons and articles organized by theme, time period, and grade level.
Tech Time
I have been a fan of the online learning game called Teach Your Monster to Read for many years. The game is designed to help students improve the speed and accuracy with which they recognize letters and sounds. The game gets its name from the friendly monster avatars that students use in the game. Teach Your Monster to Read also offers three fun phonics games to be played offline.
The Teach Your Monster to Read physical phonics games are designed to help students increase the speed with which they recognize sounds and letters while at the same time getting them moving about your classroom, gymnasium, or playground. Currently, three phonics games are available through the Teach Your Monster to Read website. In all three games students use large grapheme flashcards that students have to properly identify and place in proper sequences.
In Pirates and Sailors students have to match the grapheme cards to objects whose name begins with the grapheme on their cards. In the Pass the Sound game students participate in a relay race of sharing corresponding grapheme cards. And in the Find My Family Sound game students have to find classmates who have drawn the same grapheme card without showing anyone what is written on their cards.
Applications for Education
Playing the Teach Your Monster to Read phonics games could be a fun way to review what your students may have learned while playing the online version of Teach Your Monster to Read.
Earlier today when I picked up my daughter from preschool she proudly showed me the snowman artwork that she had made during art class. A picture of her artwork is the featured image of this blog post.
Seeing my daughter's snowman art reminded me of the snowman word game template offered by Flippity. Flippity's Snowman word game is a game in which students have to correctly guess the letters of a word in order to prevent their snowmen from melting. The template lets you make your own variation on the game with words and hints of your choosing. Your game can be shared with students via its assigned URL. Students don't need accounts in order to play the games that you create. Here's an overview of how to create your own online word games by using Flippity's Snowman template.
ARNO FACEBOOK
"LIKE" us to see lots of great updates and photos from school!  Thank you for promoting this social media platform as a positive way to share the good news and great things happening at Arno!
HERE IS THE LINK!  
https://www.facebook.com/arnoelementary/